A recent change in work routine means that I'm away from my laptop for much of each day. This has forced me to look for new ways of staying productive during those many small moments when I could be writing. Last week, I wrote about an experiment with speech-to-text dictation using Google Docs on my smartphone. Now, I'm looking for a simple way to synchronise my work across three different devices.
For me, working on the go means writing and editing notes and documents on an Android smartphone or an Apple iPad. Regardless of the mobile device used, I need to sync the files with my Windows laptop. The documents also have to be in a file format that allows editing on any of the devices.
Not too long ago the use of three different operating systems would have narrowed my options dramatically. Even now, if I had the luxury of a clean start (and plenty of spare cash), I'd probably simplify life and trade in my phone and laptop for their Apple equivalents. But in the real world I have to work with what I've got. So I'm looking for apps, file synchronisation services and file formats that work across all three platforms.
I already use Evernote to synchronise notes between my laptop and smartphone. It works pretty well, but the free option now allows the use of only one mobile device. That restriction rules Evernote out as an option. But I won't be abandoning it entirely. Evernote is still a great way to store notes and I'll keep using it on my smartphone and laptop.
There are plenty of free cloud storage services which sync files between Android, Windows and iOS. Three that I already use are Dropbox, OneDrive and Google Drive. They work in a similar way and will all do the job I'm asking of them.
My Android smartphone will be the primary device in use while I'm away from my desk. Which means that the setup I choose has to work well on it. Recently, I wrote about my experiments with dictation on the smartphone. I found that the best arrangement for that was to use Google Docs which save by default as a .gdoc file to the Google Drive. I also tried the Microsoft Word Android app, but found that it's slower to load and use than Google Docs.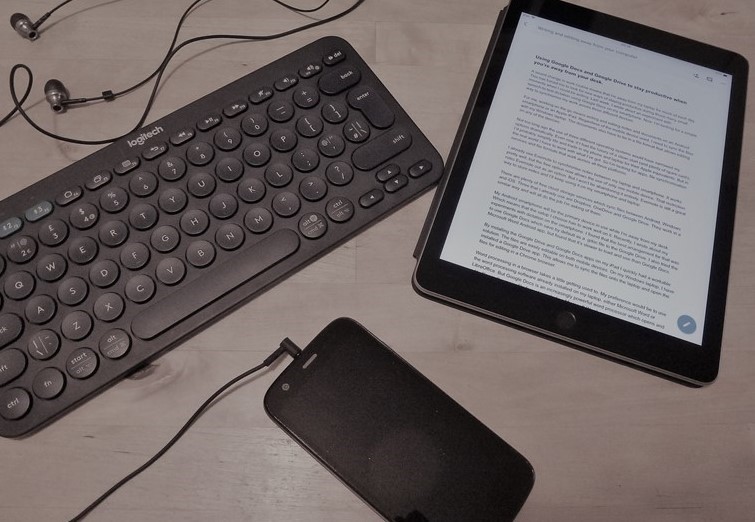 By installing the Google Drive and Google Docs apps on my iPad I quickly had a workable solution. The files are easily editable on both mobile devices. On my Windows laptop, I have installed a Google Drive app. This allows me to sync the files onto the laptop and open the files for editing in a Chrome browser.
Word processing in a browser takes a little getting used to. (I'm relieved to know I'm not the only one who is freaked out by the lack of a save button. ) My preference would be to use the word processing software already installed on my laptop, either Microsoft Word or LibreOffice. But Google Docs is an increasingly powerful word processor which opens and edits files in the major file formats, including Microsoft Word.
Summary
A combination of Google Docs and Google Drive is a simple and practical solution for working with text-based documents across multiple devices. File changes are immediately synced across all devices, which means that I can start work on one device and continue seamlessly on another.
On an Android smartphone, Google Docs works well with speech-to-text dictation. Or I can use the standard keyboard.
The only drawback so far is working in the Chrome browser when I'm using a laptop. Given the other benefits of Google Docs, it's a minor issue and something I'm more than happy to put up with.