One of the early pleasures of the research phase for Peloton of Two was creating an interesting route for the characters in the novel to take on their journey around France.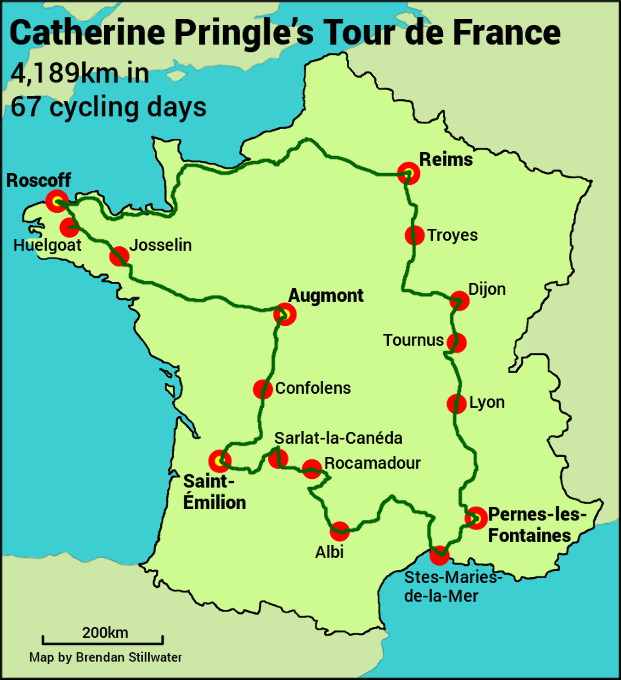 Initially, there were few constraints. The characters had an entire summer to spend in France, giving them plenty of time for detours. Catherine Pringle, the protagonist of Peloton of Two, is a cycling novice when the journey begins. It couldn't matter less to her where she goes in France, not at first anyway. But Nick Farne, Catherine's adventure-travelling boyfriend, is completely the opposite. Every destination on a journey planned by Nick matters, every road is carefully chosen, every stopping point is there for a reason.
It made sense then that Nick Farne would be the primary framer of the route. And Nick, because of who he is, would definitely chose Roscoff, the remotest of the channel ferry ports, as his starting point of choice. Even in June there's a good chance of wind and rain in the Finistère département of Brittany. This is exactly what happens and it has a direct impact on the plot of Peloton of Two when Catherine and Nick have their tandem accident near Huelgoat.
The rest of the route for the first phase of the journey was easy to settle on. The journey through inland Brittany is followed by a cycle along the Loire valley, ending at Augmont sur Indre, the only fictitious location in the story.
The journey south
Having brought the characters inland as far as the Indre, the obvious route for their journey south takes them along the valley of the Vienne and then south-east to Saint-Émilion. This famous wine town, with its cobbled streets and outdoor restaurants, is a perfect setting for a critical turning point in Peloton of Two's plot.
Turning east
The turn east after Saint-Émilion is a sign that Catherine, no longer a cycling novice, is beginning to exert an influence on the journey. Nick's plan would have taken the tandem south into the more challenging mountain routes through the Pyrenees. Catherine prefers a journey through the Dordogne and, for reasons that become clear in the book, she prevails. The tandem then reaches the shores of the Mediterranean at Saintes-Maries-de-la-Mer and continues to Pernes-les-Fontaines near Avignon.
The journey north
Catherine and Nick disagree about many things, but the route of the journey north through Lyon, Dijon and Troyes to Reims is never in dispute.
Return to Roscoff
The final leg of the journey is one of Catherine's choosing. It passes through the Marne and Somme regions and then into Normandy. The tandem completes the circuit of France by returning along the coast of Brittany to Roscoff.
Save
Save
Save