If you enjoyed reading Peloton of Two and would like to know more about the story, additional material is available on this page. I've included a deleted scene from early in the story and several full entries from Catherine Pringle's blog.
In the deleted scene, Catherine is standing on the deck of an overnight ferry as it approaches Roscoff harbour. She has just spent a sleepless night below deck after her first exhausting day on a tandem. Catherine watches, with some trepidation, as the ferry approaches the rugged granite coastline of Brittany. She is exhausted, hungry and not at all ready for France. Hardly surprising, then, that she makes an embarrassing mistake.
Catherine has been commissioned to write a series of confessional journalism articles and blog posts describing her journey around France. I've published several of her posts in full here:
Like many cycle tourists, Catherine develops her own set of rules for cycle touring. She isn't the first to do this. The tradition goes all the way back to Paul de Vivie (1853-1930), the Frenchman considered to be the first cycle tourist. De Vivie developed seven comandments for the wise cyclist. Catherine, never one to be outdone, goes several steps further and creates an even dozen rules of her own.
A map from the book showing the route around France is also reproduced here in colour.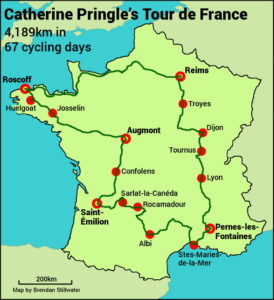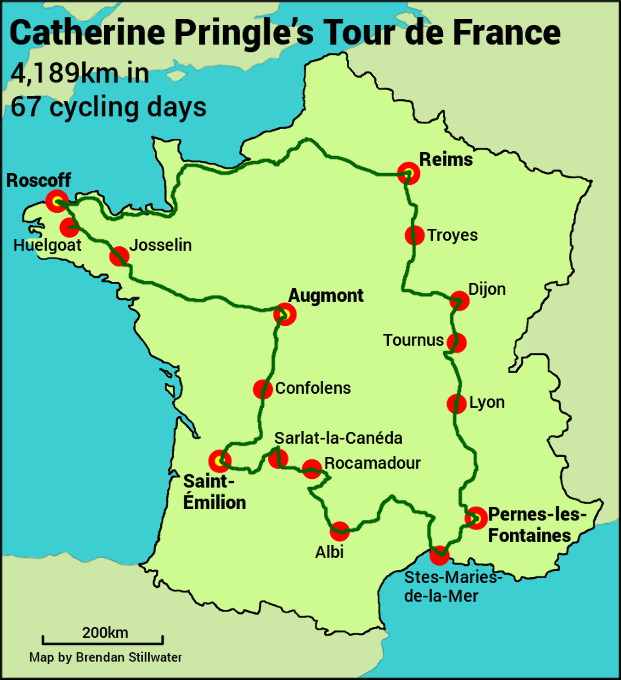 If you'd like to know about the background research behind Peloton of Two, additional information on book research is here.
Save
Save
Save
Save
Save
Save
Save
Save
Save
Save
Save
Save
Save