Catherine Pringle is hardly the first cyclist to develop a set of rules for cycle touring. She is simply following in a long tradition that stretches back to Paul de Vivie, the Frenchman who first coined the term cyclotouriste.
De Vivie (1853-1930), the founder in 1889 of the magazine Le Cycliste, was an early advocate of cycle touring. Writing under the pen name Vélocio, he wrote vividly about his many tours. The extract below, one of my favourite quotes about cycling, is an example of his work:
After a long day on my bicycle, I feel refreshed, cleansed, purified. I feel that I have established contact with my environment and that I am at peace. On days like that I am permeated with a profound gratitude for my bicycle. Even if I did not enjoy riding, I would still do it for my peace of mind. What a wonderful tonic to be exposed to bright sunshine, drenching rain, choking dust, dripping fog, rigid air, punishing winds …
De Vivie pioneered the use of multiple gears on bicycles and is credited with inventing derailleur gears. Surprisingly this wasn't a universally welcomed development. Henri Desgrange, organiser of the Tour de France, thought that 'variable gears are fit only for people over 45'. Unperturbed, de Vivie happily rode every morning up the col de la République outside St-Étienne, just for the joy of passing riders who had only one gear.
Drawing on his experience of cycle touring, de Vivie developed his seven commandments for the wise cyclist: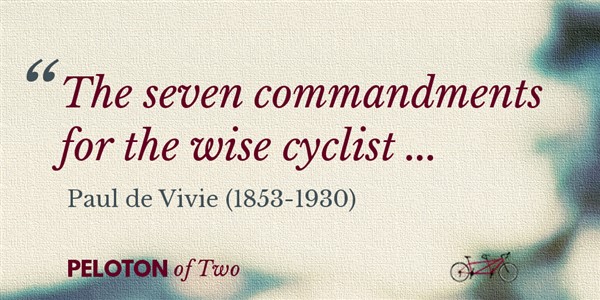 Keep your stops short and few in order to maintain your rhythm
Eat before you're hungry and drink before you're thirsty
Never ride to the point of exhaustion so that you can't eat or sleep
Add a layer before you are cold, peel off before you are hot
Don't drink wine, smoke or eat meat on tour
Never force the pace, especially in the first hours
Never ride out of vanity, don't be a show off.
Over the course of Peloton of Two, Catherine carves a trail of destruction through most of Vélocio's rules. But rules are personal things and, as Catherine says when she lists her own laws of cycle touring, 'Rules are made to be broken, aren't they?'
Save
Save
Save
Save
Save