I was asked recently about the cycling routes in France that I have travelled and thought it would be helpful to describe them here.
Peloton of Two is a work of fiction. The route followed by Catherine and her various companions was created especially to complement the story. It's a perfectly workable Tour de France but not one, as far as I am aware, that anyone has actually followed.
My own travels by bicycle in France have mostly been limited to holidays of two-and-a-half weeks or less. The cycling routes in France that I have followed during those holidays are listed below. There are nine routes covering a distance of almost 4,000km.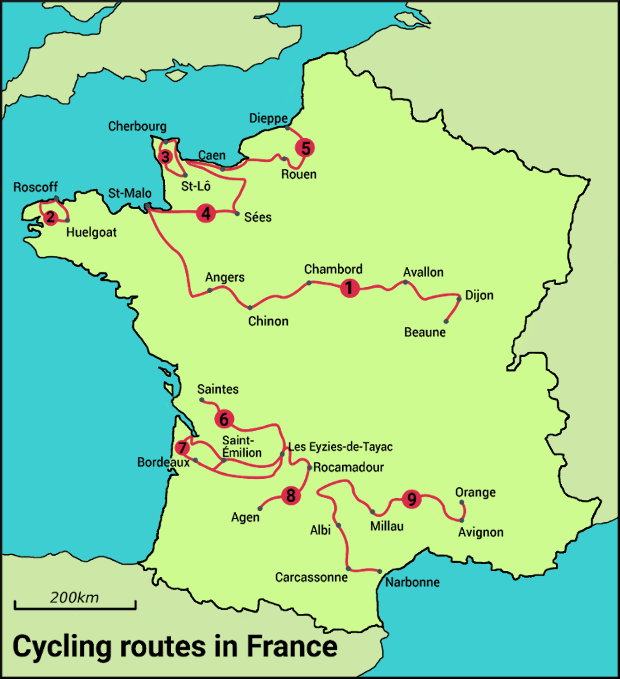 Route 1 – St-Malo to Beaune, 1,000km
This route, almost 1,000 kilometres in length, begins in the ferry port of St-Malo. It crosses eastern Brittany to the Loire at St Florent-le-Vieil. Then it follows the Loire Valley upstream to Saumur and Chinon, with château visits at Azay-le-Rideau, Chenonceaux and Chambord. The route then crossed the upper Loire and into Burgundy.
Route 2 – Roscoff – Huelgoat – Roscoff, 300km
This short route combines Brittany coastline with a journey inland to Huelgoat.
Route 3 – Normandy, the Cotentin Peninsula, 250km
The route begins in Cherbourg. It includes a coastal trip to the fishing post of Saint-Vaast-la-Hougue, a visit to the D-day's Utah Beach and the village of Sainte Mère Eglise. It contines to Saint-Lô before looping back to Cherbourg.
Route 4 – St-Malo to Caen (Ouistreham), 580km
This route begins in St-Malo and includes a visit to Mont-Saint-Michel. The route then continues inland into Normandy, before visiting Caen and Bayeux. Many D-day sites are included: Mont Ormel, museums at Caen and Bayeux, Omaha Beach and Arromanches.
Route 5 – Dieppe to Caen (Ouistreham), 350km
This route begins in Dieppe and travels through Upper Normandy to Rouen. It then follows the Seine to the Norman abbey at Jumièges, before continuing to Honfleur at the mouth of the Seine. The route then passes the Pegasus Bridge at Bénouville and ends at the ferry port at Ouistreham.
Route 6 – Saintes to Bordeaux, 380km
This route included visits to the wine towns of Cognac and Saint-Émilion. It includes the Dordogne and Vézère valleys, with visits to the caves at Font de Gaume and Lascaux II. South of the Dordogne it passes through a number of walled bastide towns before ending at Bordeaux.
Route 7 – Bordeaux – Saint-Émilion Bordeaux, 200km
This route was curtailed because of an injury. It begins in Bordeaux and visits Pauillac, and crosses the Gironde by ferry to Blaye. It then visits Saint-Émilion and returns to Bordeaux via Créon.
Route 8 – Bordeaux to Agen, 450 km
This route leaves Bordeaux on a former railway track to Créon. It then passes through a number of bastide towns, before crossing the Dordogne and travelling up the Vézère valley. It then visits Sarlat-la-Canéda and Rocamadour before turning south to Agen.
Route 9 – Narbonne to Orange, 750km
This route crosses the south from Narbonne to Orange. It includes visits to Carcassonne and Albi. It follows the valley of the Tarn through Millau to Florac. Then visits the Roman aqueduct at Pont du Gard before turning west to Avignon and Orange.
Save
Save
Save
Save