Catherine Pringle, the protagonist in Peloton of Two, has been commissioned to write a series of confessional journalism articles and blog posts describing her journey around France. The post below is the first entry in her blog. It explains why she is going to France on a tandem and what she feels like after her first ever day of cycling.
Come to France – on a tandem!
by Catherine Pringle
Saturday 18 June, 4 a.m.
Mid-Channel, aboard the overnight ferry MV Armorique
By the time you read this post Catherine Pringle will be in France and well into the first day of her epic 2,500-mile cycle ride.
Denial experts among you will have noted the deliberate (perhaps you're also thinking desperate) use of the third person in that opening. When my resilience is low – and there are no prizes for guessing we're deep in that murky little place right now – I find it enormously comforting to imagine that Catherine Pringle is someone else entirely. How else can I reconcile the fact that she'll soon be in France doing something she'd never in a million years imagine herself doing?
A long-distance journey by tandem is a proposition that would never have entered my head without someone standing on the other side of it pushing and shoving pretty hard. That someone is the man who will be sitting in front of me all the way around France – my boyfriend, the explorer Nicholas Farne.
We've been together for almost two years, but for most of that time he's been out of the country on one of his many solo adventures. The longest we've actually spent continuously in each other's company, having what you might think of as a normal everyday relationship, is something like a fortnight. So when his promise of a summer at home together was threatened by another lengthy expedition, I just had to put my foot down. Ultimatum time. His choice. Me or another trip.
I fired everything I had at him: that we hardly spent any time together, had few shared experiences, weren't really a couple. Which turned out to be a major tactical blunder. I'd backed myself so far into a corner that there was no reasonable way out when he suddenly said: 'Then come with me to France!'
Since then – and this is pretty typical of anything organised by him – the whole thing has assumed epic proportions. In my mind Come to France is in a whole different category from Ride with me on a tandem around France. Oh, and we're going to camp as well because my employer is an outdoor equipment retailer and they insist on us testing their entire catalogue while we're away.
One slightly hesitant yes somehow led to another and, before I knew it, we were discussing routes, equipment, everything right down to choice of tyres. (Schwalbe Marathons, if you have to ask, a decision thankfully that only required me to nod in agreement.)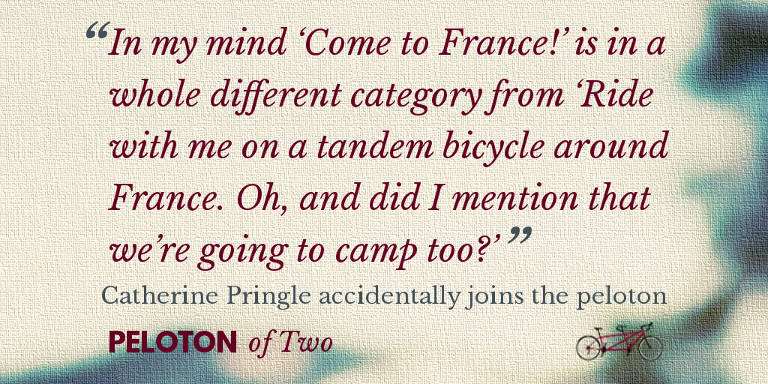 I've done a lot of nodding over the last few months. That and praying the whole thing might never get off the ground. Hardly my finest hour. But don't worry. Yesterday, the first day on the tandem, I paid for that attitude in spades. It was hell. Over and over again the rolling Devon countryside exposed me as a breathless, weak-limbed dead-weight. A total humiliation. Nick insists he went easy on me but from where I was sitting I can only describe it as brutal.
Deliberate or not, it almost broke me. I can't tell you how relieved I was to freewheel downhill into Plymouth. I even felt a surreal sense of accomplishment when we rolled onto the ferry's car deck.
Somehow, against the odds, Catherine Pringle survived her first 50 miles on a tandem. Which leaves another 2,450 to go. I know what the philosopher Laozi would say about that – you know, a journey of a thousand miles begins with a single … etc., etc. But I'm pretty certain he didn't magic that up on the back seat of a tandem with an unrelenting partner sitting up front setting a savage pace.
I think Catherine Pringle can make this work, but only time will tell, and I've got a nagging worry that something in all of this will eventually have to give. I just hope it isn't me.
Save
Save
Save