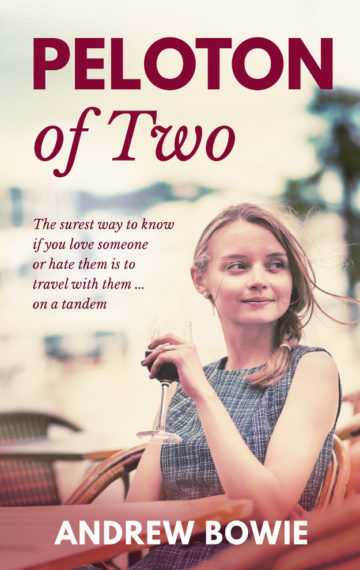 Available in:

Paperback and Kindle ebook

ISBN:

9780995649002

Published:

September 8, 2016
Amazon UK
Amazon US
Amazon Australia
The surest way to know if you love someone or hate them is to travel with them …
Lifestyle journalist Catherine Pringle has no idea what she's taking on when she says yes to a tandem cycling holiday with her boyfriend Nicholas Farne. A complete cycling novice, Catherine sees the time alone with him as a much-needed opportunity to mend their troubled relationship. She even convinces her editor that it's perfect material for a series of confessional articles and blog posts. But Nick is a goal-oriented adventure-travel expert who never does anything by halves, and Catherine soon finds herself committed to a summer-long 4,000-kilometre Tour de France.
The journey is barely under way when Nick damages his knee in a freak accident. Hoping for a quick recovery he persuades Catherine to keep the injury out of her column. One white lie leads to another and Catherine is soon spinning a complete fiction in print about the cycle tour. She writes nothing about the glacial pace of Nick's recovery. And makes no mention of Steve Munro, an Australian traveller they depend on totally to keep the tour on the road.
Catherine thinks she knows what she wants from life. But the journey around France, and the people she meets along the way, makes her question everything. As she waits for the lies she has written to be discovered, she is forced to confront a larger issue: Would she rather travel through life alone or as part of a Peloton of Two? And, if the latter is true, then who is her ideal tandem partner?
Peloton of Two is available as a Kindle ebook. Follow the Amazon links on this page for more details. The paperback can be ordered through any bookshop.
Reader reviews for Peloton of Two
"A fun, light read which made me want to jump on my bike to cycle, drink and eat my way around France"
"A wonderfully crafted story combining the beauty of France with the challenge of relationships. Bowie really knows how to write realistic dialogue. A pleasure to read."
"An engaging and endearing story that will ring true with anyone who has tried holidaying by bike. Very enjoyable."
"Read it twice and read between the lines to enjoy the subtleties you missed the first time."
"You don't have to be a cyclist to enjoy this funny, light-hearted romance set in rural France. Catherine, the instantly likeable heroine, is smart and kind-hearted … The major and minor characters all sparkle, especially the passionate and eccentric Balchoffers and the terrifying Uncle George. Along the way we get to visit historic sites and villages, see the scenery and glean snippets of wisdom about life, relationships and the importance of travel. A great holiday read."
Related