This month marks the 75th anniversary of the release of Casablanca, one of Hollywood's most successful and iconic movies. Casablanca's popularity has only improved with time and it is now considered an undisputed masterpiece and perhaps Hollywood's quintessential statement on love and romance.
The movie was released in November 1942 to a solid but not spectacular initial run. It went on to win three Academy Awards – Best Picture, Director and Adapted Screenplay  – and has now become one of Hollywood's most watched movies. A great deal of analysis has been done on the reasons behind Casablanca's continued popularity (if you're interested, here's a short video featuring a discussion of the movie's merits by a movie professor). But it's probably a combination of several factors – the cast, screenplay, direction, cinematography. And then there's As time goes by, the classic song performed by Dooley Wilson.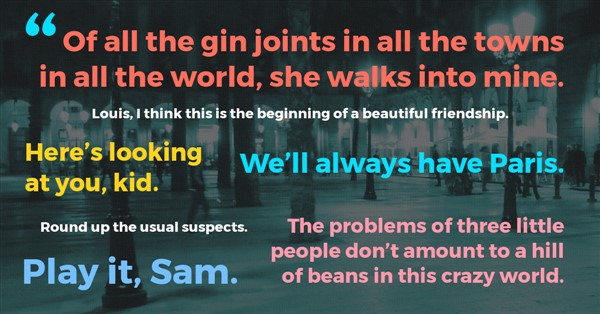 Casablanca is one of my favourite movies and I couldn't resist referencing it in Peloton of Two. In an early scene, Steve Munro and Catherine Pringle are meeting alone for the first time. Steve is a movie buff and it's only natural for him to borrow and slightly change a line from Casablanca when he greets Catherine. Here's part of the scene:
She finished her circuit of the lake and continued into Huelgoat's central square, the Place Aristide Briand. Strolling along its western side, she began her quest for coffee, and was scanning a menu on the window of a crêperie when a voice behind her, mock-American, squeezed theatrically through a clenched jaw, said: 'Of all the crêpe joints in all the towns in France, she has to walk into this one.'

It was Steve. He was smiling at her, partly, she suspected, because his Bogart impression was so very good. He was still wearing his charcoal rain jacket, unzipped now to reveal a faded T-shirt, but had discarded yesterday's waterproof leggings for jeans. Taken completely by surprise, Catherine fumbled for a response until a fragment of Ilsa Lund's dialogue came into her head. 'No matter what happens, Steve, we'll always have Brittany. We didn't have it until yesterday, but now we've found it.'

When he nodded his appreciation, she laughed a little too much, and had to hurry on …
Despite being a journalist, Catherine isn't an especially reliable witness. She specialises in confessional journalism, a branch of her profession that rewards exaggeration and occasional little white lies. It's typical of her that that she manages to get the dialogue from Casablanca slightly wrong. It's Rick, not Ilsa, who says, "We'll always have Paris" but Catherine remembers the words being spoken by Ilsa. Perhaps, after just two encounters with Steve Munro, she's beginning to identify with Ilsa, a woman who will spend an entire movie trying to decide which of the two men in her life she loves more.
There's more about Peloton of Two here, including the links to Amazon where you can't get a free sample of the book.